3 Rise Circular Stairs
Our 3 Rise Circular Stairs are manufactured using ¾"plywood substrate. The plywood substrate is coated with fiberglass resin and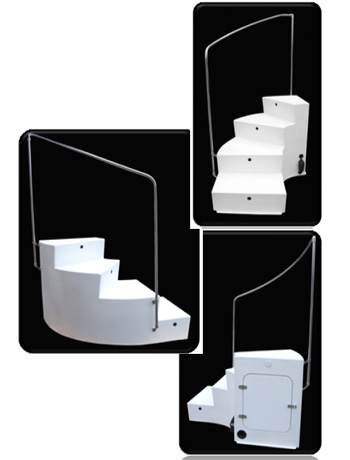 then sprayed with black or white LAMINEX LEXAR, a poly-urea high performance coating manufactured by 3M, that is virtually indestructible. This process makes our stairs 100% weatherproof, skid resistant, and safe for boarding your yacht. They will not discolor yellow, crack, blister or oxidize like other fiberglass units on the market. 
Our protective coating is impervious to weather, sun, gas, oil, diesel fuel and most other chemicals. It is exceptionally wear and tear resistant which makes our stairs able to withstand the harshest of marine environments. All models have a pre installed aluminum dock mounting bracket making them easy to attach to your dock system.
The LAMINEX finish is sparkly black or white and looks great!
Unlike fiberglass stairs ours can be painted.
Angled risers and wide treads make our stairs comfortable to walk.
Stock sizes include Step Stools & 2 through 6 rise stair configurations.
Optional: Storage door, stainless steel rail systems (#316 stainless with cast stainless fitting) and light kits are available for most models.